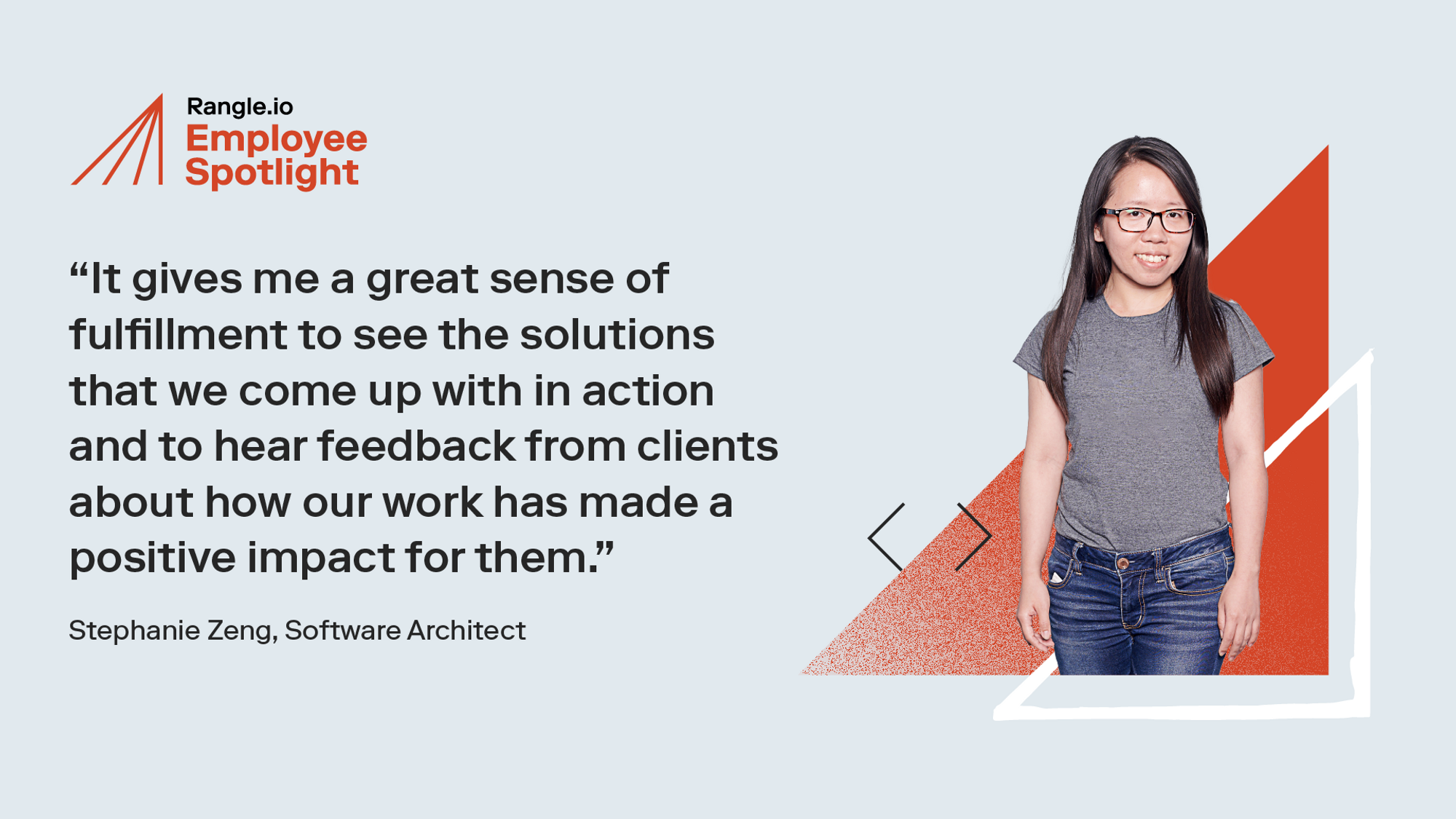 Get to know Ranglers in our new employee spotlight series on our blog. This series will give you a glimpse into the lives and experiences of our team members. You'll learn about their roles, how they got started in their careers, and their unique perspectives on working at Rangle.
From software developers to designers, this series will showcase the diversity and talent of our team. Be sure to check back regularly to learn more about the amazing individuals who make our company a success.
This month, meet Stephanie Zeng, a Software Architect at Rangle who has been with the company for the past four years and is currently on maternity leave. As a Software Architect, she's responsible for defining technical decisions and crafting architectural solutions for our clients. Stephanie helps define architectural decisions focusing on modern Javascript frameworks. She often steps in to build POCs to validate technical decisions, working collaboratively within Rangle's cross-functional environment.
What's your favourite part of being a software architect at Rangle?
One of the best things about being a Software Architect at Rangle is the opportunity to work on a variety of interesting and challenging projects. I really enjoy collaborating with cross-functional teams to better understand the business domains and help solve problems. It gives me a great sense of fulfillment to see the solutions that we come up with in action and to hear feedback from clients about how our work has made a positive impact on them.
What does a typical day look like for you?
My day starts with the most important part: coffee! After that, I join my team for our daily standup (project scrum) to catch up on what everyone is working on. Then, I spend some time reviewing code. Depending on the project, my hands-on work can include: conducting stakeholder interviews, working with developers and other architects to understand the problem that needs to be solved, researching and diagramming solutions, building proof of concepts, presenting POCs and recommendations to stakeholders, documenting our work, and supporting the development team with implementation and debugging.
Why did you want to become a developer?
Ever since I was young, I've always loved problem-solving. Coding is a perfect way for me to combine that passion with the ability to build something from an idea to a working application. There's nothing quite like the feeling of seeing my work come to life and making an impact.
What attributes and skills help make a developer successful at Rangle?
At Rangle, we look for developers who are open, curious, driven, and brave. These qualities help them to be successful in our consulting-style environment, where it's important to be empathetic to our clients and ask good questions. Additionally, having a growth mindset, being open to suggestions, and taking constructive feedback well are key skills that help developers thrive at Rangle.
What advice do you have for people looking to move into a software architect role?
Believe in your abilities, and don't be afraid to speak up. Never assume that your work has little impact or that your insights are not valuable. Advocate for yourself and actively seek opportunities to lead projects. If you're a new developer in the tech industry, it's always beneficial to become familiar with a wide range of technologies and understand their trade-offs. Apply that knowledge to your projects whenever possible.
Are you looking for your next career move in tech? Visit our careers page to explore current job openings and find your place at Rangle.