"Most of the fact writing has become selfish writing. The writers don't think about the reader but about themselves... Writing is for the reader. For the reader always comes first." Maeve Brennan
Getting started
UX writing is based on two simple principles: Be respectful and be useful.

A UX writer works from a place of empathy, always thinking about the end user or customer first, and putting themselves in their place to understand how an interface can be a delightful experience, removing any potential frustrations, problems, or mistakes for them.
Unlike many other types of copywriters whose work is usually solitary, a UX writer works as part of a team with designers and developers to understand their projects conceptually and holistically. The content must find a constant balance between the message of the designers and developers, the message of the marketing team (including the company style guide), and the ultimate needs of the end users of a product.
Keep it simple
UX copywriting must be simple to understand and read like natural language. In order to both be respectful and be useful, great UX writing is not "dumbing down". Even if your product or ideas are complex, your copy should be consistent and free of jargon, buzzwords, and other industry or technical speak that is not customer-friendly.
Note: using 'customer' instead of 'user' to drive the point home that the site they're creating is not for internal use
In line with this, copy on your site should be at a maximum grade 8 reading level. If you can't explain what you mean to a hypothetical 13-year-old user, ask yourself: Do I even understand it?
Put yourself in the customer's place
There are several questions to consider when beginning a UX writing project.
The first is: "What is the objective?" meaning "What is the user's objective?" It's quite possible for the user's intentions to be different from what the design or development team may tell you. A great UX writer does some detective work to see if there's more to know about how the customer is using a page.
This includes understanding the flow that brought them to a page or product, and thinking about what information they already know before they get here. The best way to do this is to move yourself through the flow of the page. If you don't think 'front end', you can't center yourself in the user experience. This includes seeing the potential problems and frustrations customers can experience.
After working to avoid those problems, you can ask the second question: "Where do users want to go next?" There may be one or several desirable pathways according to design needs, but your copy will ultimately structure their decisions.
Best practices for accessibility
Inclusive user research makes your products better.
For users with visual impairments, or who otherwise have trouble reading, screen readers allow them to use your site either by automated speech or with a Braille display. Clarity and simplicity are key when considering the limitations of screen readers.
Consider the tone and voice of your brand.

It's important to consider the tone and voice of your brand. If you rely on wit or a lot of technical terms, consider how the copy sounds out loud, without visual context. Also, carefully consider your use of acronyms. Many audio screen readers will attempt to group the letters into one word, rather than read the letters individually as intended.

Be conscious of the order of elements.

Screen readers read out elements as the user focuses on them, letting them know whether they're on a text link, image, or button. Screen readers always scan content from top to bottom, left to right. Therefore, presenting information in this order is a great starting point for accessible content.

Keep in mind that instead of perceiving the entire screen, visually impaired users can only focus on one element at a given time.

Add Alt text to images.

Alt text is a tenet of accessible web design, with the purpose of describing images and providing context to users who are unable to see them. For those who are unfamiliar, Alt text describes an image in a few words and doesn't appear on the screen. This helps those who use screen readers to hear the Alt text you've added to your image instead of seeing the image, providing context and enhancing their understanding.

Establish a close working relationship with designers.

A close working relationship with designers will ensure your copy is easy to understand for those who use screens but may have impairments like color blindness. Appropriate contrast levels for color, easily scannable layouts, and content placed in the correct areas keep the flow of the site going.
A must-have reference is the Web Content Accessibility Guidelines (WCAG), which help teams develop digital products that work for a wide range of people.
Best practices for writing error messages
Error messages have traditionally been written in technical, robotic language with no user instructions, leading to frustration. A bad user experience means losing customers. Empathetic error messages, on the other hand, can build loyalty to your product.
Identify the mistake, then tell the customer how to fix it.
In a typical example of a login error, the customer should clearly understand what was wrong, followed by the steps to correct the problem. The example below could be improved by a secondary call to action leading to a password reset link.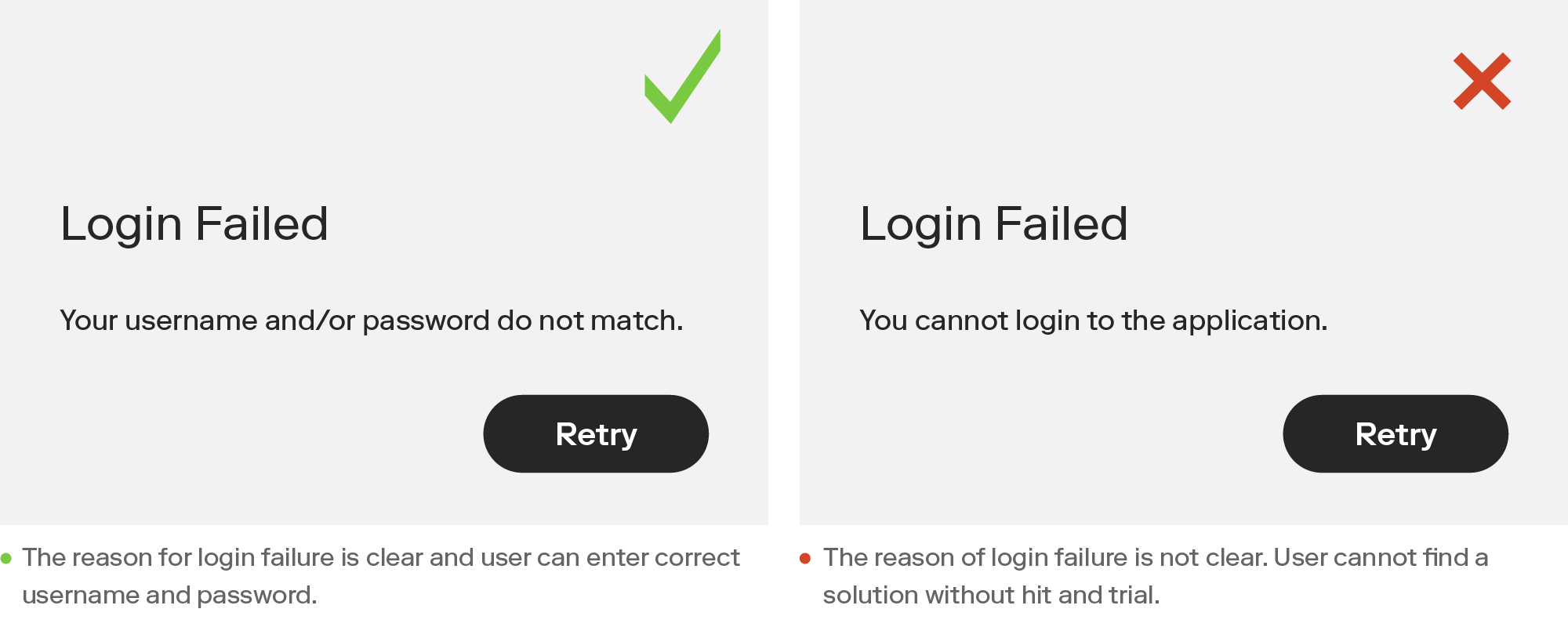 Keep it short.
It's easy to get wordy when you're trying to give the customer all the information they need. However, it's important not to overwhelm customers with content. This includes technical or jargon-heavy language that can lean to robotic-speak. Plus, the longer the message, the more likely they will skim it rather than read it. You can correct this problem by avoiding redundant words and over-communicating the problem.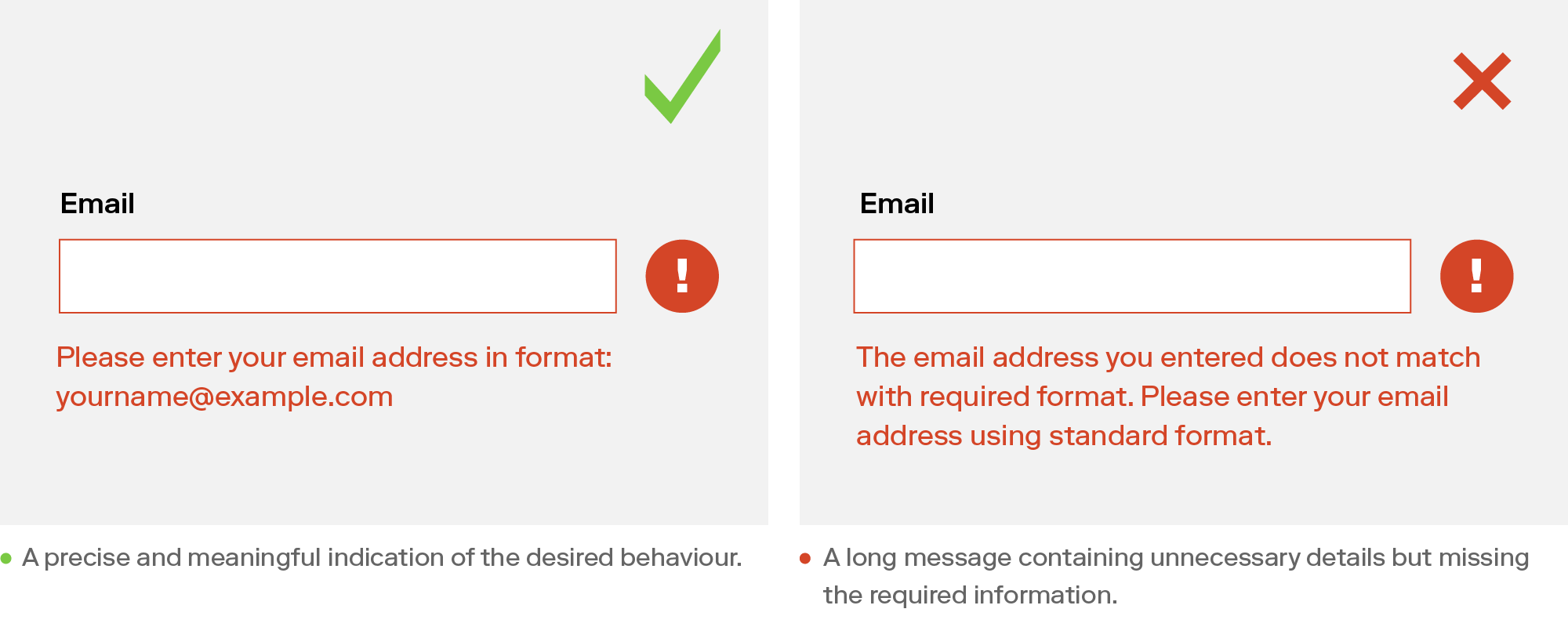 Give the customer only what they need in the moment.
Don't anticipate their next steps. Long error messages are often caused by anticipating needs or attempting to provide more information than what is useful at a given stage in the process. Getting overwhelmed with content is an easy way for customers to become frustrated.
Stay positive.
Negative words are another way to frustrate the customer. Even if it seems minor, a negative emotional reaction to your product is a bad thing – it creates unhappy associations in the customer's mind. The easiest ways to stay positive are to ensure your language doesn't blame the customer for the problem and avoids negative language.
Best practices for writing button copy/CTAs
Calls to action (CTAs) are an invitation for customers to take action and engage with your product. The best button CTAs are short, three words or less, and include a compelling verb. They tell the customer where the button will take them and communicate a sense of urgency.
Writing traditional CTAs like "Learn More" and "Sign Up" are not as effective as messages like "Create Your Site," "Test It Out," or "Shop The Event." The latter examples are more context-specific, encouraging the customer to take fun, positive actions.
Writing great and engaging button copy is also an exercise in empathy and putting yourself in customers' shoes: What are you supposed to do? What would make you want to do it?
You can set your tone accordingly and create an empathy-driven experience when you understand what customers want to do at different stages of the journey. Ultimately, great button copy and CTAs help improve your site's usability and the overall user experience.
TL;DR
UX writing is a team sport, involving designers, developers, marketers, and other stakeholders.
Keep the customer in your mind while you write, and focus on making them feel positive while they use your product or interact with your site. The best way to do this is to keep your writing precise and easy to understand for anyone who will read it, regardless of their abilities.
Lastly, don't forget to back up your UX writing with data. It's crucial to gain a deep understanding of your customers' behavior, and the best approach is to never stop testing.